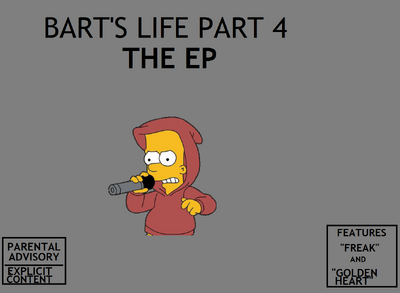 Bart's Life: Part-4 EP is the first EP by Bart Simpson. It is the fourth addition to the Bart's Life album series. The lead single is Freak. It will be released April 17, 2014.
Track List
Edit
Amanda + Me = Two Amazing Kids
Got Dat Bentley
L-U-V (featuring Isla Chan & Nathaniel Motte of 3oh!3)
Feelin' Alive Pt. 2
Golden Heart (featuring Rapsta Chik)
Livin' So Good
Freak (with DJ TRAKZ & Amara)
Winner (featuring Young Prince, Chris Brown, Rapsta Chik)
Ad blocker interference detected!
Wikia is a free-to-use site that makes money from advertising. We have a modified experience for viewers using ad blockers

Wikia is not accessible if you've made further modifications. Remove the custom ad blocker rule(s) and the page will load as expected.