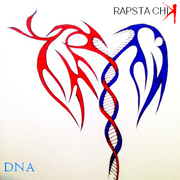 DNA is a song by Rapsta Chik originally by Little Mix, it is part of the Young Life Cover Week, it is to be part of the upcoming Young Life EP (Jane Mik is participating even though she is not in Young Life).
Does he tell you he loves you when you least expect it
Does he flutter your heart when he kisses your neck
No scientist or biology
It's obvious when he's holding me
It's only natural that I'm affected

And my heart won't beat again
If I cant feel him in my veins
No need to question, I already know

It's in his DNA
D-D-DNA
It's in his DNA
and he just takes my breath away
B-B-B-Breath away
I feel it everyday
And that's what makes a man
Not hard to understand
Perfect in everyday
I see it in his face
Nothing more to say
It's in his D-D-D-DNA
Ad blocker interference detected!
Wikia is a free-to-use site that makes money from advertising. We have a modified experience for viewers using ad blockers

Wikia is not accessible if you've made further modifications. Remove the custom ad blocker rule(s) and the page will load as expected.