Flashbacks is a single by Rapsta Chik, produced by Disclosure and featuring guest vocals by Icona Pop. It is about Rapsta's marriage to Artie Ziff in 2004 an why she divorced him in 2008.
Y-yo
You're a hoe
And I know
Because I saw years ago
You wanna know
How I know
Well I'll tell you but I could involve a little

(Chorus)

Flashback, Flash Flashback
Backflash flash flashback
Oh oh oh woah oh oh (x2)

(Verse 2)
Yeah spill it honey
You were the one that fucked my bunny
Artie Ziff was his name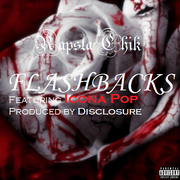 I caught you kissing his tiny neck
So I didn't say but I know now
So I'll break your tiny neck
(Chorus 2)
Oh oh woah oh oh
Oh oh woah oh oh
Flashback flash flashback

(Outro x2) Icona Pop:

Hey you I saw you
Kissy Kissy Kissy
I saw you bitch
Get the hell out of my sight
Music Video
Edit
The video was shot in New Delhi and premiered August 4, 2013. Rapsta dyed her hair blonde for the video, Icona Pop was not featured in the video.
Ad blocker interference detected!
Wikia is a free-to-use site that makes money from advertising. We have a modified experience for viewers using ad blockers

Wikia is not accessible if you've made further modifications. Remove the custom ad blocker rule(s) and the page will load as expected.