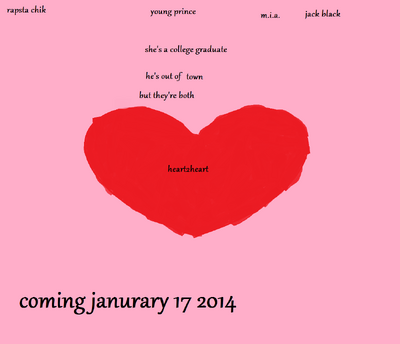 Heart2Heart is a romance comedy (rom-com) film directed by Rapsta Chik, starring Rapsta Chik, Jack Black, Fay Middlestone, Young Prince, M.I.A., Darren Criss and Harrison Ford. It is expected to be released on 17 Janurary 2014, with the soundtrack coming out on the 16th and the first soundtrack single
DOYOLOVEME
(Performed by Rapsta Chik and M.I.A.) to be out on the 15th.
A young woman, Jenny (Rapsta Chik) and her best friend (M.I.A.) return from college and move in together. A young man named Neo (Young Prince) moves in across the hall and after a few encounters with Jenny, Jenny and Neo fall in love but don't have the courage to ask each other out on a date.
Amanda Simpson (Rapsta Chik) as Jenny, a girl who just got out of college and is looking for love
Richard Brooks (Young Prince) as Neo, a young man who moves in across the hall, but when he meets Jenny, he doesn't realise that a new house isnt all that he's getting.
M.I.A. as Angelica, Jenny's best friend since pre-school, Rapsta confirmed she will die in the middle of the movie
Jack Black as Dexter, a nerd who has had a crush on Jenny since high school
Fay Middlestone as Maria, Jenny and Brad's proud mother who likes to push her children into career options they don't want to work for, in real life Fay is Rapsta Chik's mother.
Darren Criss as Brad, Jenny's older brother who is all for the party life and even as an adult likes to tease his younger sister.
Harrison Ford as Dennis, Maria's ex husband and father of Jenny and Brad.
Helena Fasesha as Pamela, a  lesbian British woman who models in France, she will die in the movie and her death will be related with Angelica's death.
Amara as Samantha, a lesbian woman who is dating Pamela
Soundrack
Edit
Rapsta Chik confirmed the movie will have a Soundrack shortly after the film was confirmed, so far a single by Rapsta Chik called "DOYOLOVEME" featuring M.I.A has been comfirmed as the first single to be released in early 2014. On July 2013, a cover of Miley Cyrus's We Can't Stop performed by Helena Fasesha was leaked onto the web, it has been confirmed that that song will be single 2, in the U.K it will be released as a b-side to DOYOLOVEME, but in the U.S. it will be released separately on Janurary 18, 2014.

1. Rapsta Chik- DOYOLOVEME (feat. M.I.A.)
2. Rapsta Chik - KISSNHUG
3. Young Prince - Gifted Love
4. Helena Fasesha - We Can't Stop (Miley Cyrus cover)
5. Rapsta Chik - Heart2Heart (feat. 2NE1 & Young Prince)
6. Helena Fasesha - Get In Line
7. Rapsta Chik - Magic (feat. Cee Lo Green)
8. Helena Fasesha - We Want
9. Amara & M.I.A.- Long Night
10. Young Prince - Carry You Home Tonight
11. Rapsta Chik - TGIF  (Avicii remix)
12. Amara - Smokin' This Hun (solo version) (Avicii "Silouhette" remix)
Ad blocker interference detected!
Wikia is a free-to-use site that makes money from advertising. We have a modified experience for viewers using ad blockers

Wikia is not accessible if you've made further modifications. Remove the custom ad blocker rule(s) and the page will load as expected.