Insane is the lead single from Rapsta Chik's upcoming fifth album, it is a duet with Kelly Clarkson. The single will be released 11th October 2013.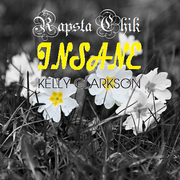 Intro x2: Rapsta and Kelly
Dum Dum Dum Dum, Dum Dum Dum Dum
Yeah eh eh eh, Yeah eh eh

Verse 1: Rapsta and Kelly
R: You would hit me
K: You would kick me
R: You would berate me
K: Till I cried
R: I hated you
R: Cause you bruised me
K: And abused me
K: Till I found...

Bridge: R and K

... That
Side of me
That could stand up and
Face the fist
And face your words
And you drove me insane

Chorus: R & K

Drove me insane
I went out of my mind
Because of your words and hits
You drove me insane
And now I can never go back to
That sad place inside.
Music Video
Edit
A teaser of the video showed Rapsta and Kelly in a room with ceramic tiling all over. After four months of waiting for the video, Chik premiered the music video on January 1, 2014. The music video features Rapsta and Kelly in a mental hospital room with straight jackets on. Rapsta and Kelly break out of the jackets and fool the guards into opening the door of their room. Rapsta and Kelly drive off in a stolen van and arrive at an apartment. Kelly and Rapsta walk in to the apartment and confront their abusive boyfriends. Rapsta punches one of the two men before Kelly and Rapsta grab random hard household objects and slowly advance towards them. Rapsta and Kelly are then driven away in a mental hospital van as the police bring out the household objects they used. It is implied that Rapsta and Kelly used the objects to kill their boyfriends.
Ad blocker interference detected!
Wikia is a free-to-use site that makes money from advertising. We have a modified experience for viewers using ad blockers

Wikia is not accessible if you've made further modifications. Remove the custom ad blocker rule(s) and the page will load as expected.