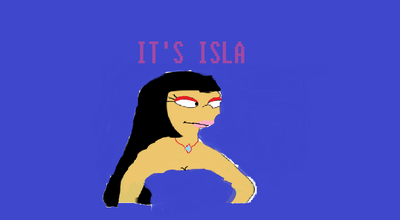 It's Isla
is the debut album by Asian-American singer
Isla Chan
. It was confirmed by Chan on Twitter before the music video for the albums lead single "Shut Up" was released. It is a possibility that confirmed unused material from Chan's failed band will be in the album. On Febuary 6, 2014, the release date was revealed. The release date for It's Isla was April 29, 2014. The second single is That's The Way It Goes, however it never appeared on the album. On Febuary 6, 2014 a new song called Perfect was made available when you pre-order It's Isla. The full track listing was revealed on March 20, 2014. On the same day Bizzare was released as a promotional single and Party was revealed as the third single to be released on April 2, 2014. On April 19, 2014, she released the album early in time for Easter. The album reached Number 1 on the
Springfield Hot 20 Albums Charts
. On May 1, 2014 the fourth single "
UR 2 L8 (Remix)
" featuring Rapsta Chik was released. And the fifth and final single from It's Isla is a remix of the title track by Dutch DJ Sander Van Doorn. On June 21, 2014, due to high requests, a music video for "Bad Chick" was released, although it is not an official single.
Track Listing
Edit
1. It's Isla
2. Shut Up (ft. Helena Fasesha)
3. 2 Boys
4. Grand Prix (ft. Rachel Layton)
5. Bizzare
6. UR 2 L8
7. Bad Chick  (ft. Amara, LaQuaria Ghetti)
8. Tah Da!
9. B*TCHZZ!
10. Party (Oh Oh Woah) (ft. DJ TRAKZ)
11. Perfect
Deluxe Edition Tracks
12. UR 2 L8 (Remix) (ft. Rapsta Chik)
13. Talk That Talk
14. I Should Warn You (ft. Faces)
Ad blocker interference detected!
Wikia is a free-to-use site that makes money from advertising. We have a modified experience for viewers using ad blockers

Wikia is not accessible if you've made further modifications. Remove the custom ad blocker rule(s) and the page will load as expected.