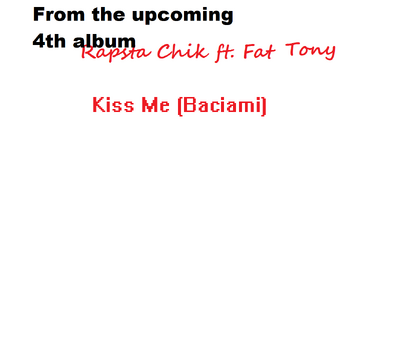 Kiss Me (Baciami) is the lead single from Rapsta Chik's upcoming fourth album, it features opera vocals from Fat Tony D'Amico.
Rapsta:
Kiss me boy, come on
Need ur lips, to live on
Me and my girls not gonna lie
We so desperate we dry
Fat Tony:
Kiss me, baciami, baciami
Woman i need kisses to live
so kiss me, baciami
baciami baciami (Rapsta: Bitch)
Rapsta + Tony: Bitches dry! (x2)
Music Video
Edit
The video features Rapsta in a pink Ferrari blowing kisses to passers by, even a lipstick lesbian, and Fat Tony appears in a studio.
Ad blocker interference detected!
Wikia is a free-to-use site that makes money from advertising. We have a modified experience for viewers using ad blockers

Wikia is not accessible if you've made further modifications. Remove the custom ad blocker rule(s) and the page will load as expected.