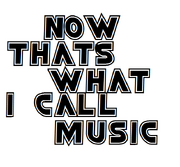 Now That's What I Call Music! (2014–present) (often shortened to Now!) is a series of various artists compilation albums released in Springfield by Livin' Life Records. Low Price Records produced the first two albums, but due to the disbanding of the label in March 2015, Rapsta Chik (Livin' Life manager) confirmed she will take over. So far seven numbered albums and two themed albums have been released.
Now! Albums
Edit
Numbered Albums
Edit
Themed Albums
Edit
Ad blocker interference detected!
Wikia is a free-to-use site that makes money from advertising. We have a modified experience for viewers using ad blockers

Wikia is not accessible if you've made further modifications. Remove the custom ad blocker rule(s) and the page will load as expected.