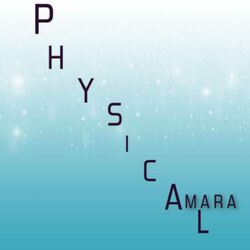 Physical is the second studio album by American singer
Amara
and was released on May 19, 2014. It's lead single You Ain't Gettin This Boy features American-British rapper 
Rapsta Chik
and was released March 29, 2014. To celebrate the release of the long awaited first single, Amara leaked a song called
Say
 online,. The full album leaked online at 5pm on May 17, 2014.
Track Listing
Edit
1. The Way That You
2. L-O-V-E (ft. Faces)
3. Wallpaper
4. Physical (ft. Shakira, Missy Elliott)
5. You Ain't Gettin' This Boy (ft. Rapsta Chik)
6. Say
7. La La La
8. Bright Lights (ft. Britney Spears)
9. What You Worry Bout
10. Smooth (ft. John Martin, Aloe Blacc, Justin Timberlake)
11. Rockstar
12. So Happy/Threw It Away
13. Say Pt. 2 (ft. Felicia)
14. Anyone (ft. G.R.L.)
15. Millonaire
16. Someday In Our Lives (ft. Young Prince)
17. Hurts (with Idina Menzel)
18. Horrify (ft. LaQuaria Ghetti) (from "The Eyes" Official Soundtrack)
Ad blocker interference detected!
Wikia is a free-to-use site that makes money from advertising. We have a modified experience for viewers using ad blockers

Wikia is not accessible if you've made further modifications. Remove the custom ad blocker rule(s) and the page will load as expected.