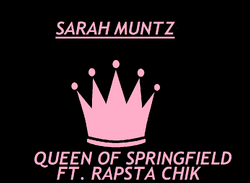 Queen of Springfield was a single by Sarah Muntz featuring Rapsta Chik, the song was released on March 25, 2014, but not long afterwards the song was deleted from Itunes, and is now referred to as the "Lost Collaboration". Why the song was deleted or why the song is also no longer available on YouTube is unknown.
Ad blocker interference detected!
Wikia is a free-to-use site that makes money from advertising. We have a modified experience for viewers using ad blockers

Wikia is not accessible if you've made further modifications. Remove the custom ad blocker rule(s) and the page will load as expected.