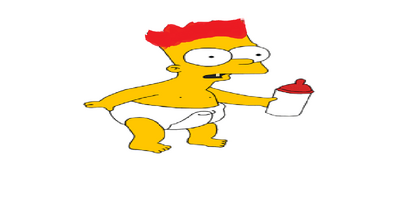 Ryan Simpson (age 3, born January 29, 2013 is the son of Rapsta Chik, he was born with a twin sister Delia.
Biography
Edit
Ryan was unexpected, and was unknown as his mother thought she was only having one baby, Ryan's twin sister Delia. Years before the twins, Rapsta miscarried a baby that was six months along. Ryan became a big brother when Abraham was born.
Mother: Amanda Simpson
Father: Bart Simpson
Sister: Delia Simpson (twin)
Brother: Abraham Simpson III
Half-sister: Lisa Ziff (deceased)
Auntie(s): Ghostie Simpson, Maggie Simpson and Lisa Simpson
Paternal Grandmother: Marge Simpson
Paternal Grandfather: Homer Simpson
Maternal Grandmother: Fay Middlestone
Maternal Grandfather: Micheal Middlestone
Maternal Aunt (adoptive): Amy Middlestone
Paternal Aunts: Lisa Simpson, Maggie Simpson
Ad blocker interference detected!
Wikia is a free-to-use site that makes money from advertising. We have a modified experience for viewers using ad blockers

Wikia is not accessible if you've made further modifications. Remove the custom ad blocker rule(s) and the page will load as expected.