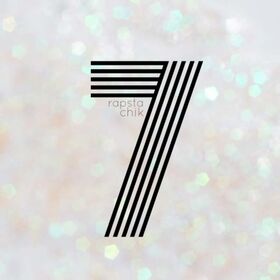 SEVEN is the seventh studio album by American-British rapper
Rapsta Chik
 and it will be released August 3, 2015. Not a lot is known about the album so far. But there were many tracks previewed and confirmed by Chik herself. However after two iTunes releases ("
Ass On Ya
" and "
Let Me Go (I'm Better Off)
"), Chik confirmed that those two songs, along with many others have been cut from the album. Chik said she cut them because "I just didn't feel they were right for me, but I promise that the new lead single will be released January." Later that day Chik previewed 3 songs that she said she would definitely be keeping, and asked fans which one would they like to see as a single. Rapsta announced that she would release "Love All Night" as the lead single on January 13, 2015. On December 31, the tracklist appeared online. Chik tweeted "Oops..." about the leak, then she followed it with "That's just for now, it is the official tracklist for now, but I may change things around. Chik has worked with
LewisLoud
, a YouTube producer that will be signed to her label on a few songs (confirmed as Escape, BAD BXTCH, Home, X). After the release of the song "Love All Night", the album was made available for pre-order, and the album cover was revealed. In February 2015, "Escape" featuring Jessie J was announced to be released in March as the second single, as part of Chik's domestic abuse awareness program, on March 13, 2015 the song leaked, the official release date was April 12, 2015, until Chik said that the song will actually be released April 22, 2015. The album's third single "Get Busy (2015 Remix)" will be released May 31, 2015, and the release date will finally be revealed that day too. Get Busy (2015 Remix) is a collaboration with Sean Paul and will heavily sample his 2003 hit single "Get Busy". On May 30, the countdown to the release date revelation was released. However "Get Busy (2015 Remix)" did not chart, becoming even worse charting than "
Should Have Left It Alone
". The album charted well however despite low post-release promotion.a
Tracklist
Edit
Escape (featuring Jessie J)
Love All Night (featuring Faces)
Strings
Gone
BAD BXTCH (featuring Helena Fasesha)
Home (featuring Austin Greyhound and Sam Smith)
Sinking The Ship (featuring Ariana Grande)
Blow Me Away
Feeling Bad
Drink Again (And Again) (featuring Young Prince)
Live Like You're Dying
X (featuring Young Prince, 2 Chainz, Justin Bieber)
SEVEN (with Amara)
Something New (featuring Kate Nash)
Get Busy (2015 Remix) (with Sean Paul)
Kiss Me Goodbye
Game of Life (featuring Rita Ora)
Love All Night
Escape
Get Busy (2015 Remix) w
Ad blocker interference detected!
Wikia is a free-to-use site that makes money from advertising. We have a modified experience for viewers using ad blockers

Wikia is not accessible if you've made further modifications. Remove the custom ad blocker rule(s) and the page will load as expected.