TGIF Part 5: Friday Returns is the 4th album by Rapsta Chik, it will be released 9th August 2013. Kiss Me was the lead single and the first promotional song was Groper at Rapella. Rapsta confirmed the tracklisting on 12th of May and revealed the second official single would be Divorz which is about her failed marriage to Bart Simpson. "Illegal" will be the third single after she posted a picture of her getting arrested with the words Illegal on the cop car on Twitter with the caption "No.3 from TGIF5". Single 4 is If You Really Want It. On 7th of July Chik revealed promotional single 2 is "Airplanes" and singles 5 & 6 are "VaJJ" and "Deep Love". La La La is the final single from the standard edition, the first deluxe edition single is Drugs and is about Rapsta's drug problem when she was 21.

1. #GETAWAY featuring JLS
2. Illegal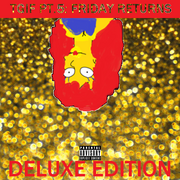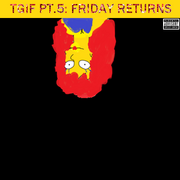 3. Lollipop featuring Amil and Britney Spears
4. La La La featuring Steve Aoki
5. VaJJ
6. Kiss Me (Baciami) featuring Fat Tony
7. Krapp
8. WateVR
9. My Style featuring Beyonce
10. Divorz featuring Sir Mix-A-Lot
11. If You Really Want It featuring Young Prince and Sarah Simpson
12.  Deep Love
13. Groper at Rapella (Joshua Riverra diss)
14. Come With Me (solo acoustic)
15. Airplanes featuring P!nk
Deluxe edition
16. Drugs
17. Mousetrap (Snapped Up My Heart) featuring Young Prince
18. Your Love is my Drug (Ke$ha cover)
19. Stay (Rihanna cover) featuring Bart Simpson*
20. La La La featuring Ke$ha, Steve Aoki, M.I.A., Big Sean, Tony Montana (remix)
21. Kiss Thiss
22. UFO (You're An Alien)
23. Kisses (Rapsta Chik vs Nicki Minaj)
Stay is not to be confused with the Sarah Simpson song of the same name, also featuring Bart Simpson.
Ad blocker interference detected!
Wikia is a free-to-use site that makes money from advertising. We have a modified experience for viewers using ad blockers

Wikia is not accessible if you've made further modifications. Remove the custom ad blocker rule(s) and the page will load as expected.