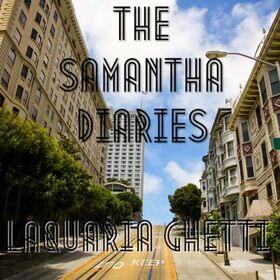 The Samantha Diaries is the debut album by
LaQuaria Ghetti
, released on June 7, 2014. The lead single is titled "Hell Yeah". On May 1, 2014, she performed Boss Ass Bitch on The Tonight Show with Jimmy Fallon with PTAF (who made the original) and Nicki Minaj (who made a remix of the original). Afterwards a studio version of the second version was released as a promotional single. On June 2, 2014 after the release of the second single "Let It Go" she revealed the official tracklist, she tweeted "New tracklist for The Samantha Diaries, #5DAYSUNTILTSD!". On Da Dancefloor featuring DJ TRAKZ was released as the third single. On July 26, 2014, the album was announced to be re released on August 13. "
Good As Me
", a joint single with
Rachel Layton
and
Isla Chan
 will be released.
Track Listing

Edit
Let It Go (featuring Isla Chan)
Don't Call Me
On Da Dancefloor (featuring DJ TRAKZ)
Disazta (featuring Beyonce, Rick Ross, Young Prince)
Force (featuring Jennifer Lopez)
No One Home
W.E.E.D. (featuring Pharell)
I Want You So Bad
Wrote This Song 4 U
Love Me (featuring Amara)
Bassline
Hell Yeah (featuring Hit-Boy, Rapsta Chik, Tyga, Flo Rida, Sonny Wilson)
Flying High (featuring Big Sean)
Boss Ass Bitch (Version 2) (with PTAF and Nicki Minaj)
Re-release Disc Two
Good As Me (with Rachel Layton and Isla Chan)
Place Like Home
IDGAF (featuring Rachel Layton)
Everybody (Put Yo Fuckin' Hands Up)
Photographs
Feel Like (featuring Austin Greyhound)
Poison (featuring David Guetta)
No Boys Allowed (featuring Ariana Grande)
Bitch Ass
No One Gives A Fuck
On Da Dancefloor (featuring DJ TRAKZ) (Extended Mix)
Glammed Up 
***Flawless (Remix) (with Amara and Under The Radar)
Ad blocker interference detected!
Wikia is a free-to-use site that makes money from advertising. We have a modified experience for viewers using ad blockers

Wikia is not accessible if you've made further modifications. Remove the custom ad blocker rule(s) and the page will load as expected.